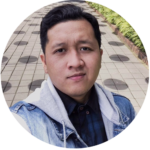 The Life of a designer is a life of fight, fight against the ugliness
– Massimo Vignelli
Dreamlike Artwork inspired by 80s and 90s Aesthetic Nostalgia is what Denny Busyet represent. His core idea is all about dreamy nostalgia that brings your memories back to what he called "good old days".
Art and Music can't be separated, he is in love with Synthwave. It's a musical genre that homage to the pop culture sounds and imagery of the 1980s and early 1990s. Synthwave musician like FM-84, Timecop 1983 and The Midnight are some of his favorites. their song, feels and vibes influence him to make an artwork.
Today, he is focusing on a personal project. Selling artworks as merchandise at his official shop and sometimes do clients work. He's self-taught, still learning and never stop creating.
Regards,
Denny Busyet